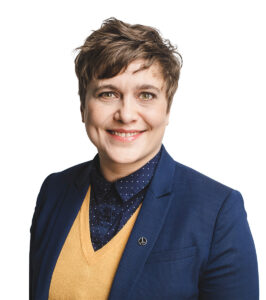 SILVIA MODIG (born 1976) is a Member of Parliament and Vice-Chairperson of the Parliament's Environment Committee. She is also a member of the Helsinki City Council. As City Councillor, she is a member of the city's Urban Environment Division, and chairs the division's Environment and Permits department. Silvia is also the Chair of the Board of the Finnish Library Association, and the Vice-Chair of the Finnish Tenants' Association. She has previously served as Chairperson of the Left Alliance City Council Group in Helsinki, and as Chairperson of Orange Apartments, a non-profit company providing communal and affordable housing for young people in Helsinki. Silvia is a journalist by profession.
---
The most important issues for me in politics are equality and non-discrimination. I want Finland to be a country and a society, in which everyone can live freely, and as who they are. A society, where anyone can fulfill their potential no matter what their background is, and a society that takes care of all its members. My job is to make sure we can have that country, where we are all equal.

The Parliament's most crucial task at this time is to reform Finland's climate policy. As a an absolutely vital target, by the 2030s we must store carbon dioxide in carbon sinks more than what our carbon emissions are. The current government is unfortunately headed in a different direction. If we are to do our part to halt global warming to the critical 1,5 degrees, we must have a new, bold climate policy. In addition to tackling climate change, the Parliament also needs to pass new and just legislation on the rights of transgender people – this is an essential human rights issue that cannot wait any longer.

The most important thing I have learned in politics is the power of working together. It is an essential skill to learn to stand strongly for your opinions and values, and still be able to arrive at a compromise with others. The necessary starting point for this skill is to know and understand the issues at hand in depth. Long meetings and late nights with huge piles of papers to read are the every day reality of politics. Big and immediately visible achievements are rare, but when they do occur, they result from working with others.

Parliamentary elections 2019
Climate Change
Alarming. A critical moment. Now or never. These are expressions that have been repeated lately by climate experts, and for good reason. It is a plain fact that, if we want to have tolerable living conditions on our planet in the future, our way of life and how we tackle climate change with political decisions must change. Experts say that even a 2 degree increase in average temperature would cause massive global suffering on a scale that is simply unacceptable. Therefore our goal must be to halt global warming at 1,5 degrees. This goal is at this time still possible to achieve, but it will require decisive action.

To simplify, it can be achieved like this: we have to reduce greenhouse gas emissions into the atmosphere and increase and enhance carbon sinks – and this must be done fast. Reducing emissions is absolutely crucial, but at the same time it is essential to also increase carbon storage and enhance carbon sinks. This means capturing and storing carbon dioxide into for example the soil, trees and wetlands. Instead of carbon neutrality we must achieve what is called a net carbon negativity. The aim should be that by the 2030s Finland captures and stores more carbon dioxide from the atmosphere than it emits into the atmosphere. This goal is perfectly achievable, but it requires genuinely and fully committed politicians.

I want future generations to have faith in the future, instead of continuous fear, anxiety and uncertainty. I want Finland to do all it can to tackle climate change both here at home as well as globally. This is what I have worked towards in the City Council, in the Parliament and in the Environment Committee, and it is what I will continue to do. A safe future belongs to us all, not just the few.
Affordable Housing
Imagine a good home. A home with enough space for all the people living in it, a home that's within a reasonable distance from work or school, and a home that leaves you with enough money to not have to struggle with meeting basic needs every month. Many take a home like this for granted, but especially in Helsinki the reality is quite different for a rapidly growing number of people. Because of the lack of affordable housing, many find themselves forced to live cramped in too small apartments, too expensively, and far away from places they need to get to daily. In Helsinki, it's also common for people with jobs to have to apply for general housing allowance, as small wages do not cover the high cost of living in the city. The high cost of housing in Helsinki is the primary reason for growing urban poverty. At the same time it hampers economic growth on a national scale, as competent, skilled people can't afford to take a job in Helsinki.

This does not have to be so. It can be changed, if there is a will to do it, and a willingness to work for it. The cost of housing isn't set in stone, but rather is can be influenced and changed with legislation and with urban planning on the municipal level. State subsidised residential construction is vital to counter the growing differentiation between residential areas, and it's also the only sustainable way to decrease growing spending in housing allowances. By changing building codes we can achieve lower construction costs, as well as more energy efficient housing. If for example we removed the mandatory parking place from the building code, apartment prices would go down considerably. It also is not at all necessary to build a sauna into every new apartment – this ideal translates into increased costs as well as into an increased carbon footprint.
An affordable home is a fundamental right, the recognition of which I have worked for in the City Council as well as in the Parliament, and in the committee reforming the Land Use and Building Act. I plan to continue working towards affordable housing for all, and not just the few.
Equality
I can't believe I still have to protest this shit. This sentiment circulating in social media is often my feeling too. Everyone is equal before the law, according to the Finnish Constitution. In practice this noble principle isn't always reality for all. Still in the 2010s, sterilisation is required from persons receiving sex reassignment surgery, and half of the population must complete a mandatory military service under threat of imprisonment. Discrimination against gender and sexual minorities is still an every day occurrence, the media separates between football and women's football, and if your name happens to ring non-Finnish, getting a job becomes difficult.
Luckily this all seems to be changing for the better. The legalisation of same-sex marriage was a political victory in favour of equality that I felt very personally, because it means that people like me now have the right to get married if they want to – or get a quarrelsome divorce of course. I've also worked towards a new Transgender Act, and we are several steps closer to a more just legal framework for transgender people. The work is far from finished though, and a new Transgender Act as well as continued hard work for other issues in equality and non-discrimination is required. A safe and equal world belongs to us all, irregardless of age, gender, wealth, ethnicity or for example sexual orientation – and I want to work towards that goal in the future as well.