Silvia Modig!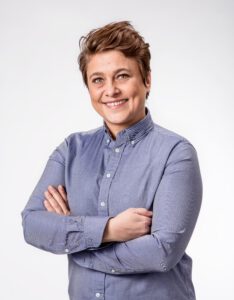 I am Silvia Modig,  42-year-old Member of Parliament and a journalist from Helsinki. I´m a member of the Helsinki City Council and City Board.
Important political themes for me are ecological matters, equality, housing politics and increasing democracy. 

I believe in red and green cooperation and in a new political culture, where a good idea is more important than the color of a party membership card. What we need is more free non-commercial common space and open-minded ways to look at new ideas.
Municipal election themes
Affordable homes
Smart climate actions
Life to the city
Affordable homes
The largest problem in Helsinki is a high cost of living. There is a huge shortage of affordable priced rental homes.
It is important to build new apartments but pure quantity doesn't help keeping the prices low. With a strong building lot politics, the city can take care of that there is enough adequate priced homes. We need new genuinely non-profit operators to our housing market. For example, a voluntary group building lowers costs of new houses because residents are already involved in a planning phase.
Smart climate actions
Good planets are hard to find. Climate change is a problem that we need to solve.
The city has an important role in stopping the climate change. Helsinki needs to be built based on a good public transportation system and cycling network. The ticket prices must be cheap in the public transportation.
Helsinki is growing fast. It gives an opportunity to build an energy efficient and wise city. Schools', kindergartens' and work places' mass canteens must prefer vegetarian-oriented local and organic food.
Life to the city
A living city arises from people. It is diverse and multicultural. Close-by forests, recreational areas, outdoor concerts, street art, pop up flea markets and cultivation boxes belong to the living city.
There should be room for voluntary doing for all residents. We need public spaces, where you can be and do things alone or together.
---
You can find the election program of Helsinki Vasemmisto (The Left Alliance) here.
---
Municipal Elections on 9 April 2017.
the advance voting between 29 March and 4 April and
abroad between 29 March and 1 April 2017.
You decide – vote!
---
Contact!
Silvia Modig
silvia.modig(at)eduskunta.fi